The VIPER– Air™ utilizes the same base cradle and brake as the VIPER Lite™ but includes a removable swing arm mount for a door gun application. The VIPER-Air™ is available with a high capacity magazine and feed chute for the M3 weapon system.
The VIPER Air Gun System was developed as a defend and deter door gun capability for fixed wing cargo aircraft. The system can be retrofitted onto most cargo aircraft but has been optimized for use aboard the C-295/CN-235. Light-weight base plates make for easy installation, and the unique quick release pedestal enables a rapid transition from the stowed to deployed position. The VIPER Air utilizes Nobles' patented Gun Mount Braking System to ensure maximum effects on target. The VIPER Air has been flight qualified by Airbus for use on the C-295.
Retaining all the capability of the MK-93 mount, to include weapon system interchangeability, soft and hard mount capability and the T&E, the VIPER Lite™ improves the current system by adding a hydraulic brake effortlessly actuated by depressing a traverse, elevation or both lever(s) ergonomically place so the operator never has to take his fingers of the trigger. Being a one for one replacement, the VIPER Lite can be used on any application that uses the MK-93 mount and has been tested to ensure integration with the most widely fielded Objective Gunner Protection Kit (OGPK) armor packages.
Accommodates all NATO 12.7X99MM machine guns & has been optimized for the M3D and features Nobles VIPER family patented Gun Mount Braking System (GMBS)
MAX ELEVATION // +7 degrees
MAX DEPRESSION // -35 degrees
SYSTEM WEIGHT
With M3D & 1000 Rounds of Ammo: 548lbs (248.5kg)
548lbs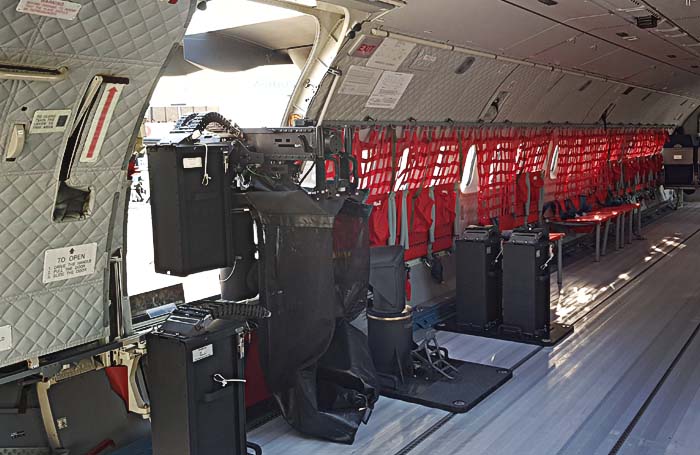 "Plug & Play" with existing mounting applications and magazines without modifications
---
Increases probability of hit, reduces number of rounds required for target suppression
---
High grade stainless steel construction provides maximum durability and extended service life
---
Maximized horizontal and vertical slew with stabilization
Includes four quick-change high capacity magazines (250 rounds each)
---
"Roll-on, Roll-off" nature allows for mission specific configurations
---
Three mechanical locking positions: Stow, Prepare & Deploy
---
Left or right side configurable