THE INNOVATIVE VIPER MOUNT SYSTEM™-30MM (VGS-30) PROVIDES AIR, SEA, AND GROUND PLATFORMS A UNIQUE CAPABILITY TO USE VARIOUS WEAPONS IN "MANNED" MODE OF OPERATION THAT IS BOTH SIMPLE TO USE AND COST EFFECTIVE VS. "UNMANNED" ALTERNATIVES
The VGS-30 is an enhanced crew served weapons mount purpose built for the M230LF cannon, the linked fed version of the AH-64 Apache cannon. The M230LF uses the same lethal combination of armor penetration and high explosive with its versatile M789 high explosive dual purpose (HEDP) round. This is the only system that provides game changing lethality while keeping the gunner in the loop for optimal situational awareness. With a rate of fire of 200 rounds per minute, and the ability to penetrate 25MM of rolled homogenous steel at 50 degrees and 500M, reconnaissance vehicles can penetrate target areas undetected while bringing the devastating effects that, until now, have only been possible with Apache helicopter.
The VGS-30 is available in a self-contained package and fits on a standard turret ring or naval deck pedestal. With less than 1300 lbs. of recoil, the VGS-30 is ideal for light-weight platforms such as reconnaissance vehicles and patrol boats. It comes complete with a 24V DC power pack without requiring any vehicle power. The VGS-30 uses Nobles' patented gun mount braking system and accepts multiple weapons beyond the M230 link fed cannon.
The VGS-30 harnesses the lethality of 30MM High-Explosive (HE) dual purpose munitions, and is the only mechanically stabilized crew served mount on the market that can accommodate the Game Changing M230LF Chain Gun.
WEIGHT
MINIMUM WEIGHT 170lbs (77kg)
170˚
MAX WEIGHT 260lbs (118kg)
260˚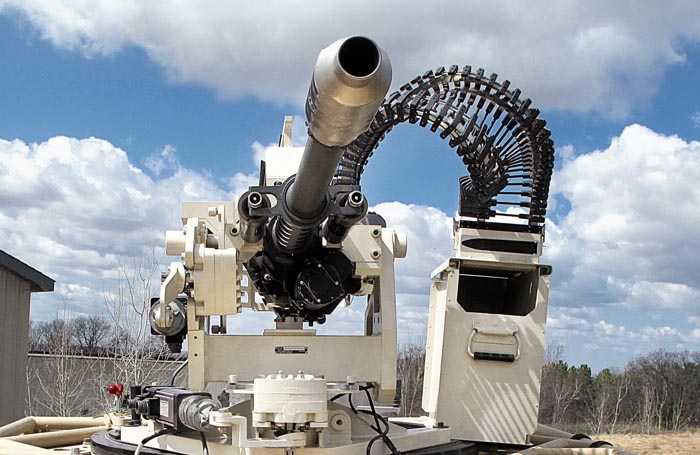 Mechanically stabilized, Crew Served Weapons Mount with patented Gun Mount Braking System (GMBS™)
---
Self-contained package, no turret modifications required, integrated 24VDC power
---
Standard turret ring, and naval deck, bolt patterns available for easy mounting on vehicles and naval vessels
---
Scalable lethality with quick weapons change out. Accepts 30mm M230LF, 20mm, 40mm AGL, & .50 Caliber weapons
---
Designed to meet MIL-STD 810
---
Picatinny Rails to accommodate multiple optics packages
---